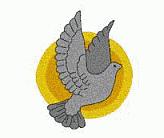 KILLARAGHT GRAVEYARD
Boyle/Frenchpark Road
The ancient Christian site of Saint Attracta's Home of Hospitality, c. 500 To 1500 a.d.
Feast day: 11th August Motif: "Hospitality and charity towards all"
(Burial areas: Boyle, Ballinameen, Breedogue and Killaraght)
e-mail: attracta@killaraghtgraveyard.com
INDEX TO THIS WEBSITE
(1) Introduction by: Proinnsias O'Teimhneain (Frank Tivnan, M.A.,H.Dip.)
(1) (a) Michael Shannon (sculptor), Carrowkeel, Kingsland, Boyle: Will kindly donate and erect a memorial stone to St. Attracta at the main entrance to Killaraght graveyard. When the stone is in place, photos will be published on this website.
(1) (b) "The Heart of Ireland": By Rev. Patrick A. Sharkey, Boyle 1927. Chapter V, pages 58 to 69, covering "St. Patrick and St. Attracta in Boyle", reproduced here. Also, by special request, Chapter XXX, pages 361 to 387, "Route No. 4. - To Brideswell and South Rosc., By Skea, Elphin, Shankill, Tulsk, Cruaghan, Baslic, Roscommon, Castlerea and Frenchpark" (also in pdf). All chapters are listed on this site. On request other chapters will be reproduced.
Also of interest are the following:
(2) Burial List: Corrections and additions will be made. (Always quote "Line No.") Disks will be available on request.
Saint Attracta's Photo Album:
(3) (a) General photos of Killaraght graveyard, before, during and after restoration.
(3) (b) Photos of family headstones and plots. These will appear only at the request of the families concerned.
(3) (c) Photos of Attracta's Churches, Schools, Nursing Homes, Halls, Wells, Windows, Graveyards, Oratories and Shrines from all Saint Attracta's areas. (Boyle, Ballinameen, Ballaghaderreen, Charlestown, Swinford, Monasteraden, Tubbercurry, Tourlestrane, Killaraght and more.) Please email your photograph. Check the site to ensure that it is not already submitted.
(4) Press Cuttings (Miscellaneous)
:
Mainly from the "Roscommon Herald"
(5) Notice Board: Visitors to the site are free to communicate with each other and will be able to read all correspondence. It is a public Notice Board.
(6) Bank Account: Details as to how you can make a donation, through this web, for the care and preservation of this sacred historical Christian Site and Graveyard:
Account Name: James Francis Conry (Killaraght Graveyard)
Name of Bank: National Irish Bank, Boyle, Co. Roscommon.
Account Number: xxxxxxxx
Sort Code: xx-xx-xx
NOTE: Funds from this Bank Account will be released on the production of three signatures from any committee working on this old graveyard. The Bank Statement, along with signatures for funds paid out of this Bank Account, will be reproduced every two months on this website.

Donations received into the above bank account number

(7) Original Suggestions: Correct/Delete/Add.
This site is under ongoing construction by: Frank Conry.
Help with procuring photographs would be much appreciated.